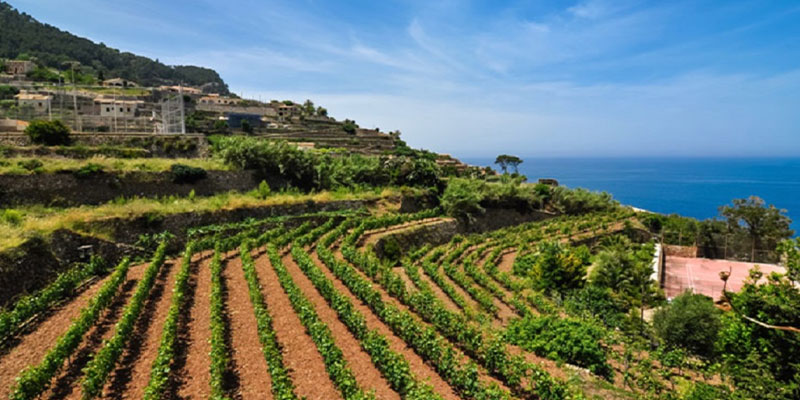 Leaving ideally the Adriatic lands, we continue the route westward to discover other European Malvasias in the Mediterranean vineyards and in the middle of the Atlantic Ocean, where once again they are given the names of the places where they are grown. The most important of them is comparable with the genetic profile of Malvasia of Dubrovnik or Lipari, and has been present for centuries both in Spain and in Portugal.
The one from the Balearic Islands is known as Malvasia from Banyalbufar, a small village on the island of Majorca of Arab origin, and its grapes are used in various dry white wines with an aromatic and fruity tendency produced on the archipelago such as Illa de Menorca, Formentera, Mallorca, Vino de la Tierra Illes Baleares and Sierra de Tramuntana-North Coast. Another renowned example persists in Catalonia with the Malvasia of Sitges, a town located on the coast between Barcelona and Tarragona. For a few years now, this vine destined to oblivion has recovered the well-deserved care and, from the hinterland of Sitges between the massif of Garraf and Penedés, the quality shown on the filed by some talented Catalan wineries is making its way. These place white wines on the market with denomination of origin Penedès in the various types both sparkling and still, even if the canonical raisin version remains the one with the strongest identity of all. The itinerary of Malvasia ("malvatico") moves towards the Strait of Gibraltar which, although crossed, keeps us in Spain reaching the Canary Islands, where the same vine takes the name of Malvasia de la Palma and Malvasia di Tenerife.
A different white berried Malvasia is bred in Lanzarote, this variety is homonymous of this island (but also called Malvasia Volcanica) and is the result of the cross between Marmajuelo and Malvasia de la Palma. The Malvasias of these volcanic matrix islands achieved a thriving international trade starting from the XVI century, when the so-called "Canary Sack" sweet wine became in great demand in the land of Albion. The obligatory manual tending of the vines is practiced on horizontal and low pergolas, in holes in the earth dug in the shape of a funnel and protected from the winds with semi-circular dry stone walls in lava stone. The new generation of viticulture in the Canaries is in strong turmoil and is bringing the Malvasia grapes of the archipelago in the spotlight tank to dry and sweet wines with an aromatic tendency.